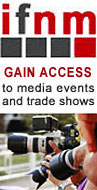 The media landscape has changed forever. There is no sector of the economy that comes near to generating the performance of the INTERNET, which has established itself firmly in all areas of life and continues to expand. And even so, today we only see the tip of the iceberg. The markets of the future have merely been scratched. The perspectives of this medium as viewed by the experts are gigantic.

In the next few years the INTERNET will have a definite effect on our business world and on the work environment. New jobs will be created, new markets are going to be explored with new methods. Conventional communication systems shall fall by the wayside. Our present technology shall be history. No future-orientated enterprise will be able to secure its existence without taking this inescapable situation into account. Also the traditional journalism must adapt to these new media.

The free and open Internet we need and value is in danger!
Often country governments, authoritarian regimes, dictators, and cartels of phone companies control the access to the Internet. They want to reserve the right to censor free speech and block any applications they don't like on the network. The Wikileaks affair and recent events in North Africa and Mid-East have shown how access to the Internet can be easily disrupted.

Handbook for Bloggers and Cyber-Dissidents. Publisher: Reporters Without Borders For further information and to download the hand-book, please visit Reporters Without Borders. >>>>


ifnm - Your international journalist Press Credentials / Press Pass to media events and trade shows!


PLEASE NOTE: Unfortunately it has come to our attention that a few members have been misusing the ifnm press card and the wider ifnm community for their own, and completely unacceptable purposes. We would therefore take this opportunity to distance ourselves from this small minority. The ifnm - International Federation of New Media llc has and always will stand for the freedom of the press, the freedom of expression, humanity and democracy, but under no circumstances will we accept racism, hate, violence or Fake News. Any and all members who violate these basic but important principles will be excluded immediately without further notice.
We are therefore withdrawing any and all accreditation to use the ifnm press card, ifnm logo or the use of our website.
ifnm independent journalist press association. Make your work easier by being a part of our journalist organization.

Freedom of the Press is a right of all free people. The extension of that right to electronic media has been established with the online revolution in the Internet. No longer is that right granted only to print media.


---
|
|
Copyright © 2006-2021 ifnm All Rights Reserved
|