WHO WE ARE

Thank you for your interest in ifnm (International Federation of New Media llc). It seems incredible that eleven years have passed. Since ifnm's launch back in 2006 we have welcomed new members from around the world. During that time our membership has gone from strength to strength. We would to say a special thank you to all existing ifnm members and a hearty welcome to new members joining the International Federation of New Media - ifnm. We believe you need the access to get the experience.

ifnm is a dynamic professional journalist organization which in a short time (founded 2006) has acquired more than 1500 members in the whole world and is a part of an international professional and freelance journalist network. We are located in Newark Delaware, USA, founded by established press photographers with over 30 years of experience on this field.

---
Copyright © 2006-2021 ifnm All Rights Reserved
ifnm is an organization dedicated to advancing the professional development and advancement for journalists working in all areas of journalism, news, television, photography, radio, blogger, newspapers, world wide web (new media) and related disciplines. ifnm supports professional and freelance journalists in the whole world by promoting equal opportunities, encouraging professional development and serving as an information network.

ifnm is also an independent registered journalist press and photographic agency, thus allowing all photographers and journalists, registered to ifnm, an equal opportunity in the world of journalism, allowing them to work part or full time as a journalist. Our press card gives credibility to its holder and on many occasions opens doors to bigger things. ifnm - Your international journalist Press Credentials / Press Pass to media events and trade shows!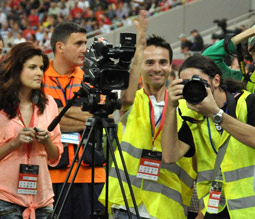 ifnm - independent journalist press and photographic association. You should simply enjoy your press work. Having the motivation is a fundamental requirement in order to be able to provide excellent work to the highest standards.

ifnm - make your work easier by being a part of our organization.