Dear Sir,

I have just renewed my ifnm Membership for 2012. I would like to request additional ifnm stickers sent along with my renewed card. May I take this opportunity to again thank for the support I receive and for the recognition as a Journalist / Reporter from the authorities concerned, thanks to your PRESS CARD.

Best regards, Edward Agius, image DV / Malta
Hi,

I have held one of your cards for around 3 years now and have found it very useful in assisting me with my work. As an aviation journalist it has enabled me to attend trade shows such as Farnborough International Airshow and major events such as the Royal International Air Tattoo at RAF Fairford. It has also assisted me in obtaining access to military facilities in France, Germany, USA, United Kingdom and more, and has enabled me to obtain photograph's that I would have otherwise been unable to get.

Mike Green, United Kingdom (Editor, Jetwash Aviation Photo's), www.jetwashaviationphotos.com
Monsieur,

C'est avec un grand plaisir que je trouve le temps de vous faire part de mon expérience depuis que j'utilise ma carte de presse IFNM. Cette carte « a changé ma vie » car auparavant il m'était très difficile, voire impossible d'accéder aux événements et manifestations nécessitant une accréditation presse ;
Depuis deux ans maintenant mes demandes d'accréditations reçoivent quasiment toujours un avis favorable, c'est à ce titre qu'il m'a été permis de réaliser de somptueux reportages photographiques. Avec ma carte je peux aussi accéder sans trop de difficultés à la plus part des événements régionaux, nationaux et internationaux : concerts et festivals, meeting sportifs, tournois et compétitions tous sports, salons nationaux et internationaux, conférences de presse institutionnelles, meeting politique.
L'été arrive et mon agenda est complet grâce à ma carte IFNM je vais rencontrer de nombreux artistes de la scène inter-nationale : Suzanne Vega, Patty Smith, Iggy and the Stooges, Deep Purple, Gossip, Renan Luce, Jacques Dutronc….
Je vous autorise à me citer comme témoins pour promouvoir IFNM.
Serait-il possible de personnaliser les cartes IFNM en y rajoutant en filigramme le drapeau du pays du détenteur de la carte. Je vous remercie et vous assure de ma fidélité.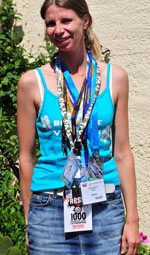 Christophe SELLIES, 11370 PORT LEUCATE, France
Hi, my name is Joal Walter and I'm ifnm member since 2007. My experience with ifnm has been absolutely hassle free. I would like to tell you how happy I am with my ifnm press card. As an sport photographer it has enabled me to attend major sport events such as Football European Championship 2008, Swimming World Championships 2009 or African Cup of Nations 2010.
So once again many, many thanks

Joal Walter. Photographer, Switzerland

International Federation of New Media has gained a great deal of respectability and recognition over the years so having a credential that identifies you and your crew as professionals in the area is an important tool to get the message across to your audience. Needless to say, it is also nice to get the photo-sound excess luggage rate from the airlines when we travel with gear to a location.

Luis Ortega, Producer/Director, DGA, Chicago, USA, www.luisortega.info
Buna, ma numesc Bogdan Nemes.
Sunt un fotograf liber-profesionist, iar cu ajutorul legitimatiei de presa IFNM am obtinut de-a lungul anilor acreditari la numeroase evenimente sportive, mondene, etc. atat in Romania cat si in strainatate. IFNM mi-a schimbat viata, acum lucrand ca un adevarat profesionist. Multumesc echipei IFNM pentru profesionalismul si disponibili-tatea de care au dat dovada.
Bogdan Nemes, Fotograf, Cluj-Napoca, Romania, www.bn-media.net
Bonjour,

Membre d'IFNM depuis quelques années, je viens volontairement témoigner du service et de la disponibilité "haut de gamme" de l'équipe d'IFNM. Plus qu'un groupe, c'est une entité chaleureuse qui s'est formée autour, et c'est sans aucun soucis que j'ai et continue à recommander l'inscription à IFNM, ce que je fais régulièrement avec certaines connaissances professionnelles dans mon secteur...
Je remercie une fois de plus, toute l'équipe d'IFNM pour leur profession- nalisme exemplaire ainsi que leur disponibilité.

Paul Marais-Hayer, indépendant secteur Aéronautique / Tourisme, France

Hallo ifnm Team,

Als mehrjähriges Mitglied spreche ich dem Team meinen herzlichen Dank aus. Die Pressekarte hat mir eine Vielzahl von normalerweise geschlossenen Türen und Toren geöffnet. Ihr seid wirklich empfehlenswert! Bitte so weiter machen.

Beste Grüsse

Karl Grambow, Deutschland / Gibraltar / Spanien / Portugal

Hola,

soy miembro de agencia de prensa ifnm desde el año 2007 y me agrada decir que es una empresa que se ha ganado su buen nombre. Simplemente excelente, muy profesionales. Definitivamente recomendable!!!

Eduardo Rodríguez Espinoza, Valencia / España

Thank you! You guys are very prompt and I appreciate that! Nice job.

David Williams, USA

Hi

As a photographic freelance journalist I would like to express my gratitude to your enterprise for having made my life so much easier. I attend a lot of international cultural events and your press card has enabled me to achieve so much more.
Thank you and please keep up the good work.

W.B. Rhodes-Malin, United Kingdom

Bonjour,

je suis photographe et possesseur d'une carte de presse IFNM depuis 2 ans. Je l'ai déjà utilisée à plusieurs reprises pour essayer d'obtenir des accréditations pour des manifestations nationales et internationales. Dans 80% des demandes l'accréditation m'a été accordée et j'ai ainsi pu réaliser, avec ma carte IFNM, les reportages suivants : Athletissima 2009, Festival International des Ballons à Air Chaud de Château d'Oex 2009, Concours Complet d'Avenches 2010, Salon International de l'Automobile de Genève 2010, Athletissima 2010
L'accès privilégié à ces manifestations, grâce à ma carte IFNM m'a permis de réaliser des photos que je n'aurais pas pu faire en temps ordinaire, je suis donc vraiment satisfait et espère qu'avec le temps, la carte IFNM sera encore mieux reconnue et acceptée.

Meilleures salutations
Brice Petit / La Suisse, www.bricephoto.ch

I cannot say enough about the great job that International Federation of New Media did. I would just like to say a big thank you for all your help in getting accreditation to Media Events.

Amelia Miller, Montreal / Canada

Dear IFNM person who's reading it,Today, I was approved to attend the AARP expo (Orlando) on Sept. 28th as a member of the press. I am a blogger, and this is the BIGGEST EVENT that I could have gotten into on my topic of retirement planning. Never in my wildest dreams did I think that I'm going to get access to the AARP expo as a member of the press. I greatly appreciate your wonderfully prompt attention, especially given that it's the weekend.

Thank you, Julia
Julia Valentine Kupchik, New York, USA
Bonjour,

Excusez moi pour cette réponse tardive, je suis handicapé et je souffre d'un cancer. Votre carte est très bien acceptée, elle m'a permis un accès facile à l'exposition internationale EMEX à Auckland Nouvelle Zélande. Une cas- quette et gilet reporter à votre nom très lisible serait encore une aide importante. J'ai également apricié à Sydney en Australi ou là aussi elle à été précieuse, elle facilite nos entrées. J'ai lors d'un de mes voyages sur un vol AIR MALESIA d'Auckland à AMSTERDAM puis LYON FRANCE, ue un surclassement en Biness par l'équipage en presentant ma carte IFNM

MERCI
Amicalement,
Jacques GARNIER, Tahiti - French Polynésia / New Zealand
It is a breath of fresh air to work with an ifnm press card, the standard of work is above my expectations.
Thank you very much

Michael Roberts
Press photographer, Sydney / Australia

Bonjour,

Merci pour la carte de presse, avec elle je peux demander l'accréditation pour prendre des photos pour le site web de www.legendmotorbike.com. ( voir staff correspondants officiels Jean-Paul Hannut )
Ce site web est gratuit et tous les correspondants sont bénévoles (gratuite-ment ), la photo est mon hobby et je fais partager la passion harley à tous. Je vous reponds car je n'ai pas trouvé sur le website ou placer un feedback
En dessous vous trouverez les liens avec les reportages effectué en 2010

Bien à vous
Jean-Paul Wallon, www.legendmotorbike.com

Hi

As a freelance journalist I would like to express my gratitude to your enterprise for having made my life and work so much easier. With the ifnm Press Card I am finding more cooperation from authorities and individuals to execute my work as a journalist/reporter. People are now overwhelmingly helpful and willing to assist me in gathering the information I require.

Thank you and please keep up the good work.
Edward Agius, Malta